Most people have some clouding of their eye's natural crystalline lens after the age of 60.E
Most people have some clouding of their eye's natural crystalline lens after the age of 60. This clouding is more commonly referred to as a cataract. About 50% of Americans in the age group of 65 – 74 have at least one cataract, and about 70% of those age 75 and over have cataract(s). Simply stated, when the eye's lens becomes cloudy, light cannot be properly focused on the retina; thus, vision decreases. The only "cure" for poor vision due to a cataract is to remove the lens and implant a new, man-made lens called an intraocular lens (IOL).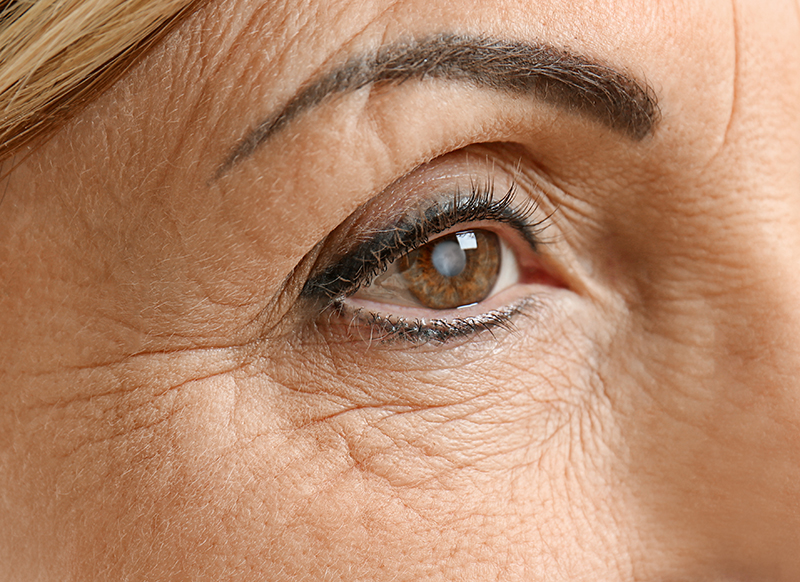 Many people with cataracts may experience symptoms such as:
Cloudy, fuzzy, foggy vision
Difficulty in seeing to drive, especially at night
Trouble seeing to do close work
Problems seeing television
Bothersome glare
Colors that seem dull, faded, not as bright
Frequent changes and a stronger glasses' prescription
Haloes around lights
A milky white spot or cloudy spot visually apparent in the center of the eye
Most cataracts develop as part of the aging process, but may be present at birth (congenital) or result from an injury, systemic disease (diabetes), or steroid use. Using specialized equipment, cataracts as well as other eye diseases, are diagnosed during a complete eye examination by an eye doctor. The mere presence of a cataract does not indicate the need for surgery. Some cataracts may be slow growing, and vision may be corrected by stronger glasses for a period of time. Some cataracts develop more rapidly than others and an eye doctor can monitor changes in vision and cataracts with periodic eye examinations.
No Stitch Cataract Surgery
The physicians at Louisiana Eye and Laser perform cataract surgery without any needles. There is no need for IV sedation, stitches, or an eye patch after surgery. Patients are able to resume most normal activities immediately after surgery. Astigmatism correction may also be accomplished at the time of cataract removal.
Introducing ReLACS – Refractive Laser Assisted Cataract Surgery and Premium Lens Options
Refractive Laser Assisted Cataract Surgery is the world's first cataract surgery utilizing the revolutionary laser precision found in LASIK for a more advanced cataract treatment. Louisiana Eye and Laser is one of the very first centers in the region to have this new technology. We are pioneering the next phase of vision at age 50, 60, 70 and beyond! "There are no two eyes that are exactly the same" so our ability to use a laser instead of a blade to treat the growing cataract population is exciting. Patients can reduce their dependency on glasses after their surgery with lens options." These lens options, multi-focal intraocular lenses (IOL's), include assistance with near and distance vision as well as help with people who have astigmatism. These lens options provide more freedom from glasses after cataract surgery. These premium lenses, used in conjunction with the LenSx laser and/or the ORA System®, allow the patient to receive precise alignment and imaging measurements of the lens necessary for a more advanced cataract treatment. This Femtosecond laser signifies a bold leap forward in cataract surgery by bringing image-guided computer precision while the ORA System offers imaging of the interior of the eye before the premium lens is implanted. The results in treatment, tailored to the surgeon's specifications, deliver a remarkable degree of accuracy so that a targeted refractive outcome is reached. Louisiana Eye and Laser is dedicated to offering the most advanced technology as an option for patients in our community, and when patients have options, patients win!
Instructions for Pre-op Cataract Surgery
The hospital will call you the day before your surgery with the time of arrival to the hospital.
BEFORE YOUR SURGERY
Starting three days before your surgery, put one (1) drop of Vigamox in the eye to be operated on four times a day. Wait ten minutes, and then put one (1) drop of Prolensa in the eye to be operated on in the morning only.
THE DAY OF YOUR SURGERY
Do NOT eat or drink after midnight prior to your surgery.
Take your high blood pressure and/or heart medication(s) with a small amount of water.
Do NOT take any diabetes medication on the morning of your surgery.
Bring your insurance cards to the surgery hospital.
Have someone with you who can be present during the surgery and drive you home.
Dress comfortably. You will be asked to change out of your clothes and into a hospital gown.
Do NOT wear boots, jewelry, makeup or pantyhose.
If you have any questions, please call our Surgery Coordinator at 318-487-2020.
Instructions for Post-Op Cataract Surgery
Please be aware that following your surgery, medication has been placed in your eye which will reverse the surgical dilation. This will make your pupil very small for one to two days. In a dark room, the pupil will not dilate, which may cause you to feel as though your vision is much darker in the newly operated eye than in your other eye. This is normal, and you should not be concerned. As soon as this medication wears off, your pupil will return to its normal size and shape, and your vision will appear brighter. If you begin to experience any pain following surgery, please call our office at 318-487-2020 or 1-877-861-7770.
AFTER YOUR SURGERY
Continue using the following drops in your surgery eye: Use (1) drop of Vigamox and Prednisolone four (4) times a day until empty. Wait ten minutes, then use (1) drop of Prolensa each morning until empty.
WHAT NOT TO DO AFTER YOUR SURGERY
Do NOT rub or apply pressure to the operated eye.
Do NOT apply makeup on or around the operated eye for one (1) week.
Avoid lifting any item more than forty (30) pounds for one (1) week.
Avoid straining or other strenuous activity for two (2) weeks.
Do NOT swim with your head under water for two (2) weeks.
Stay out of dusty environments for two (2) weeks.
WHAT YOU CAN DO AFTER YOUR SURGERY
You may use your eyes as usual in everyday activities, such as reading, watching television, or walking outdoors.
You may resume non-strenuous household activities.
You may wear sunglasses or protective dark glasses in bright light.
You should wear your metal eye shield at night or when napping for one (1) week.
You should continue to your eye as listed above until you have used ALL of the drops.
You may use artificial tears for comfort as needed.
ReSTOR IOL® (intraocular lens implant) is the latest technological advancement used during cataract surgery. ReSTOR® offers never-before-available visual results and was approved by the FDA (Food and Drug Administration) earlier this year. With the new ReSTOR® lens, many patients will not need glasses after cataract surgery. This new lens technology provides excellent near and distance vision, as well as very good intermediate vision. To learn more or to request a consultation by email, click below.
There are several options a surgeon may choose to treat astigmatism, such as LASIK, astigmatic keratotomy (AK), or limbal relaxing incisions (LRI). However, when planning to have surgery to remove a cataract, there is now have an additional option…an implantable lens that makes it possible to treat the cataract and correct the corneal astigmatism. An eye doctor will recommend the option that is best for you.
Understanding Your Lifestyle
Many patients choose freedom from glasses after cataract surgery. With multi-focal and accommodating lens technology, our cataract program is designed for people who would prefer to be free of corrective lenses in as many situations as possible. A vital part of the cataract consult process is to understand your lifestyle so we can help you choose the best lens and surgery package for your vision goals. Our goal is to make laser cataract surgery affordable for any patient who desires to be free from corrective lenses. We offer generous flexible payment plans to help fit a laser cataract surgery package in to a monthly fixed budget. Please, ask about our Care Credit plan.
Cataract Surgery for Patients with Glaucoma
Physicians of Louisiana Eye & Laser are proud to announce that it is the first eye clinic in Central Louisiana to provide to patients the iStent® Trabecular Micro-Bypass Stent as a treatment option to reduce eye pressure for patients with both cataracts and glaucoma. The iStent is FDA-approved for use in conjunction with cataract surgery to reduce eye pressure in adult patients with mild-to-moderate open-angle glaucoma currently being treated with glaucoma medicine. In clinical trials, iStent has been shown to safely reduce eye pressure, which is the primary cause of open-angle glaucoma. "This is great news for people who have both a cataract and glaucoma," says Dr. Michael Redmond. "The eye drops used to treat glaucoma can be difficult to administer and expensive. With iStent, many patients will need less medicine to control their eye pressure, and some may not need prescription eye drops at all." iStent is the smallest medical device ever approved by the FDA and is placed in a patient's eye during cataract surgery. Dr. Chad Norton states, "It is so small that the patient is unable to see or feel it after the procedure is done. Although a patient won't even know the iStent is there, it will be working to help reduce eye pressure." Implanting the iStent does not significantly extend the length of time the patient spends in surgery and has a similar safety profile to cataract surgery alone.
Studies have shown that more than 90% of patients do not comply with their ocular medication dosing regimens, and nearly 50% discontinue taking their medications before 6 months. Dr. Eric Reish cautions that, "This can be a serious problem. When pressure in the eye is out of control, it can increase the risk for permanent vision loss. I consider iStent an important advancement in protecting against vision loss for glaucoma patients.