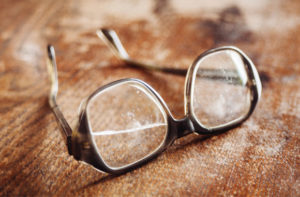 Feel like your glasses are always smudged or dirty?  You're not alone! Many people who wear glasses have a hard time keeping their lenses clean and clear.  Smudges can leave you unable to see clearly or even obstruct your vision completely. The good news is, there are a few simple techniques you can use to improve the clarity of your lenses and avoid those annoying smudges that make driving at night difficult.
Handle Your Glasses With Care
 Perhaps the most common cause of smudging is touching your lens with unclean fingers. When handling your glasses, always try to avoid contact with the lenses. Oils from your skin can get onto the lenses and cause annoying smudges. Touch only the frames instead and if your glasses aren't on your face, store them in a glasses case so that nothing will be able to touch your lenses.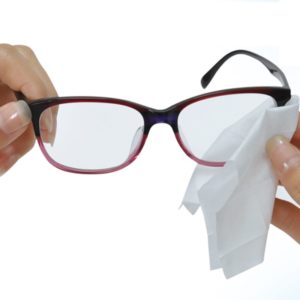 How to Clean Smudges Off of Glasses Without Scratching the Lenses
When cleaning your glasses, it is important to use the right fabric to wipe your lenses.  While it may be quick and convenient to use your shirt or a paper towel, unclean and tough fabrics can cause additional smudges or even scratch your lens. Remember – while a smudge can be easily wiped away, a scratched lens must be completely replaced.  Lens wipes and eyeglass care kits are a wise and affordable investment that can be found at most eyewear retailers. If a specialty wipe is not available, a cotton fabric that is both clean and soft may also be used to safely remove smudges from your lenses.
Glasses Lens Cleaning Solution Alternatives 
As with wipes, it is very important not to use the most convenient cleaning solution in order to clean your glasses. While glass cleaners tend to do a great job with windows – your glasses are not the same as your windows.  Many household products can damage your lenses or prescriptions as well as any specialty coatings your glasses may have. A better alternative is a lens cleaning solution, which can be found at most eyewear retailers.  
When a specialty lens cleaner is not available, there are simpler alternatives that can also be effective at cleaning your glasses.  First, be sure to wash your hands and then run your glasses under a gentle flow of lukewarm water. Then, place a small drop of dishwashing soap on your fingers and create a lather.  Apply this soapy solution to both sides of your lenses for just a few seconds and then rinse your glasses thoroughly. Carefully dry your glasses with a clean eyeglass wipe or soft cloth as described above.
Know What's In Your Frames
In today's market, there are many options when it comes to the type of lens and the special coatings that you can choose from. Depending on the person, a certain type of lens or coating may be particularly advantageous. However, it is important to realize that this may impact the way you care for your glasses. Sometimes, a specialty coating may be more susceptible to scratching or smudging. For example, anti-reflective coatings change the way light passes through your lenses, which may make smudges more visible. Ask your eye-care professional whether or not your lenses will need special care or consideration when it comes to keeping them clean and smudge free.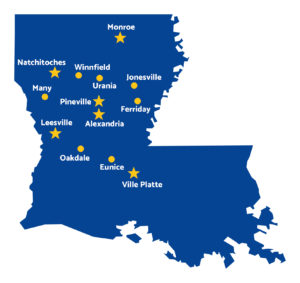 Still Have Questions?
These are just a few tips for clearer, smudge-free vision. If you want more information on eyeglass care, contact the experts at Louisiana Eye & Laser. Having served Louisiana for over 40 years, we know the importance of clean and clear lenses. We also have the latest and most-advanced technology to help keep your vision smudge free. If you have any questions about keeping your glasses clean, Contact Louisiana Eye & Laser. You can call, go online or come visit us at one of our 14 convenient locations to learn more!