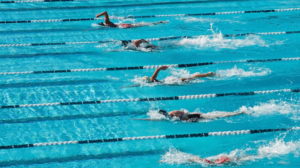 Cataract surgery has become an extremely routine treatment for those suffering from vision reduction due to cataracts. Cataracts are a common issue with older adults, those who smoke, individuals with previous eye injuries, or those who have spent significant time in the sun.  While the surgical procedure itself typically takes 10 minutes, a complete recovery can take up to four weeks or more, depending on the individual.  During the recovery period after cataract surgery, it is extremely important to listen to your surgeon's advice and avoid certain activities – including swimming. One of the most common questions we get as a leading provider of cataract surgery in Louisiana is: how long do I have to wait to swim after cataract surgery?
Swimming is perhaps one of the best all-around exercises, especially for individuals with bone or joint conditions.  It uses almost all of the body's muscle groups, building strength and toning muscles simultaneously. Swimming can benefit heart health and build endurance as well.  Unfortunately, swimming can also be risky following cataract surgery and should be avoided for at least two weeks for swimmers who wear goggles and four weeks for those who do not. 
How long does it take to recover from cataract surgery?
Immediately following cataract surgery most individuals experience blurred or wavy vision as well as red and bloodshot eyes.  While some patients report clear vision within hours, everyone is different. Some patients can take a few weeks to feel completely normal.  All patients should be cautious following surgery, but most people can comfortably watch TV, work on a computer, and shower or bathe within a few hours of surgery.  Always consult your surgeon about your specific needs following cataract surgery and follow their advice carefully.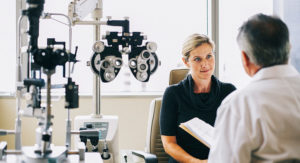 What activities should I avoid following cataract surgery?
Following an eye surgery liquids, dust, and particulate matter can cause potential complications.  Fortunately, complications are very rare when individuals follow the surgeon's advice and avoid risky activities.  In particular, all of the following activities should be avoided while a patient is recovering from cataract surgery:
Driving (on the first day)

Heavy lifting

Bending over

Sneezing or vomiting (if possible)

Exposing the eye to irritants, such as dust or wind

Rubbing the eyes

Smoking

Drinking alcohol

Swimming (including hot tubs)
Swimmers should wait four weeks after cataract surgery before swimming in a pool or a natural body of water.  Swimmers who wear goggles may swim as soon as two weeks after cataract surgery. However, it is very important to wait until the eye has had a chance to properly recover.  Even with goggles, there is a heightened risk of infection immediately following cataract surgery. Dust or particulate matter on the goggles can lead to serious complications in recovering patients.  Furthermore, goggles do not eliminate the risk of water contacting the eye altogether.
One last thing to keep in mind is that the same rules apply to hot tubs!  Hot tubs often harbor bacteria that pose an extreme risk to patients recovering from cataract surgery.

Come visit one of our 14 offices here in Louisiana!
If you have questions about cataracts, cataract surgery or your recovery, don't hesitate to give us a call.  Whether you are looking for an eye doctor in Monroe, Alexandria, Pineville, Ville Platte, or other LA city or town, Louisiana Eye & Laser Center has been treating patients for 42 years and has access to all of the latest, cutting-edge technology.  Our professional staff will make your cataract surgery and recovery a breeze!