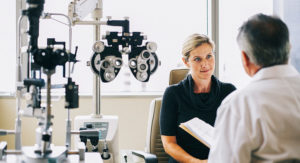 Cataracts are a common issue with older adults, smokers, individuals with previous eye injuries, or those who have spent significant time in the sun.  Surgery is currently the only treatment for cataracts. Fortunately, cataract surgery has become extremely routine and can take as little as 10 minutes.  While some patients may experience clearer vision in just hours, a complete recovery can take up to four weeks or more, depending on the individual.  During the recovery period, it is particularly important to listen to your surgeon's advice. Many patients ask why our doctors tell them they should avoid sleeping on their side after cataract surgery. Allow us to explain that here!
In addition outpatient advice, your doctor will provide you with a protective eye shield following cataract surgery.  Because a person's risk of infection will be higher following any type of surgery, it is extremely important to wear your eye shield following cataract surgery, even when you sleep.  In addition to wearing your eye shield at night, you will also want to avoid sleeping on the side that has been operated on.  By reducing irritation, you can decrease your risk of infection and speed your recovery process. This is why your doctor tells you not to sleep on your side after cataract surgery. 
If you have more questions or are researching cataract surgery, our team at Louisiana Eye & Laser Center is here to help! Contact us online to schedule an appointment with a member of our team to learn more about cataract surgery options.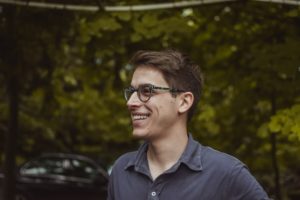 Activities to Avoid Following Cataract Surgery
Liquids, dust and particulate matter can cause serious complications after an eye surgery.  While complications are very rare, it is very important that you follow the surgeon's advice during your recovery process.  In particular, all of the following activities should be avoided while a patient is recovering from cataract surgery:
Driving (on the first day)

Heavy lifting

Bending over

Sneezing or vomiting (if possible)

Exposing the eye to irritants, such as dust or wind

Rubbing the eyes

Smoking

Drinking alcohol

Swimming (including hot tubs)
Sleeping After Cataract Surgery
As with any healing process, sleep is an essential part of recovering from cataract surgery.  While you may have little control over the way you sleep, there are a few things you should do to avoid irritating your eye at night.  Your surgeon will provide you with a protective eye shield following surgery. The protective eye shield will protect your eye from irritants, including contact with the eye.  Depending on your particular needs, your surgeon may advise that it is okay to remove the shield within as little as just a few hours following your procedure. However, you will need to wear your protective eye shield while you sleep for at least the first several days after your surgery. 
It will also help to avoid sleeping on the same side that you have had surgery on.  In general, you will want to do as little as possible to avoid irritating your eye. This includes rubbing and contacting your eye – even with your pillow.  By sleeping on your back or the opposite side, you may be able to decrease your risk of infection after surgery. However, the eye shield can provide a back up protection for those who are unable to avoid sleeping on a certain side.
Still Have Questions?

Just call or visit an eye care professional at any of our 13 locations, right here in Louisiana!  At LA Eye and Laser, we specialize in treating eye diseases and surgery of the eye. Our professional staff has been helping patients with cataracts and other vision needs for over 40 years.