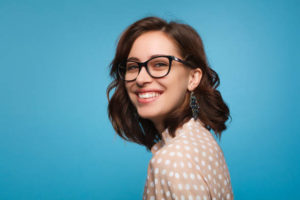 Finally!  After all of the searching, trying on and comparing glasses you've got those perfect frames – only now they don't feel quite right.  Sure, most new glasses take a little getting used to, but what if your glasses just don't fit? Sometimes it can be hard to tell that there's a problem with your glasses until after you're already suffering the consequences of wearing glasses that don't fit.  When glasses are too tight or too loose, seeing can become strenuous – even with the right lenses. 
When we fit glasses to patients at our Optical Center there are several important considerations. These include the nose bridge, sides, eyeglass frames, and even the materials your glasses are made of.  It is important to work with your eye care professional like us to find an optimal level of comfort and make sure your glasses fit correctly. Getting your new glasses adjusted by a professional is very routine and can save you time and pain in the long run. 
The Nose Bridge
The nose bridge is an especially important consideration because it is one of the few points of contact between your glasses and your face.  You want the nose pads to make as much contact as possible with your nose, sitting "solidly" on your face. The more contact your nose pads have with your nose, the more grip there is to keep your glasses in place.  However, when the nose bridge is too tight, it can pinch your nose and cause major discomfort. An eye care professional like us will be able to help you find that balance between too much or too little contact.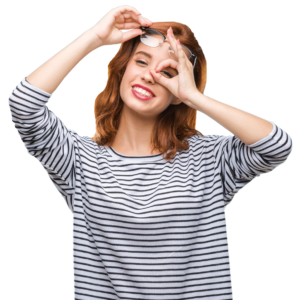 The Sides
The sides of your glasses should be adjusted to match the shape of your face so that there is no pressure on the temples.  When the sides of your glasses are too tight, they can place pressure on the temples, which is often mistaken for glasses sitting correctly.  In reality, there should only be a slight amount of pressure behind the ears, keeping the weight of the glasses from sliding down the nose.
The Eyeglass Frames
Generally speaking, the optimal size eyeglass frame depends on two things: pupillary distance and the size of your eye socket.  With these factors in mind, one of our eye care professionals can help you decide which frames work best for you.  Normally, the top of the frame should be below the eyebrows and above the eye folds in order to keep your vision clear.  It is also recommended that the eyeglass frames are not much wider than your face and that they allow you to see clearly through the middle of the eyeglass frame.  
The Materials
Eye glasses are generally more comfortable when they are thin and light.  Plastic lenses can be up to 50% lighter than glass lenses. Likewise, plastic frames are much lighter than metal frames.  Having glasses with plastic lenses and frames may be advantageous for those who need a lightweight pair of glasses. However, the nose pads of plastic frames are often more difficult to change or fix than those of metal frames.  With metal frames, there are typically many options for replacing the nose pad size and materials. Additionally, plastic frames may deform over time due to changes in temperature or weather.

Need to adjust your frames?
Louisiana Eye & Laser Center is here to help! Visit one of our 14 convenient locations across Louisiana if you need help making sure your glasses fit correctly.  Our experienced staff can help you make adjustments or choose new frames to make sure your vision is as clear and comfortable as possible. We hope to see you soon!