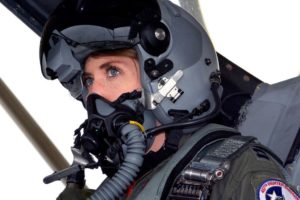 When it comes to correcting blurry vision, there are a few different methods that are commonly used. The most common type of correction is the use of glasses or contact lenses that compensate for the refractive error in the eye. Another popular solution to blurry vision is LASIK. LASIK is a laser eye surgery that actually alters the shape of the cornea in order to correct the refractive error in the eye and improve vision quality. The LASIK procedure has come a long way since it was first performed back in 1988. Even the United States Air Force trusts LASIK.
(Fun fact, the first ever LASIK procedure was performed here in Louisiana.)
LASIK eye surgery is trusted by the U.S. Military
Perfect vision is vital for pilots in the US Air Force as well as other branches of the U.S. Military. Air force recruits must meet strict vision standards in order to be qualified to fly. The US Military has done extensive testing using various corrective measures to ensure the safety of pilots and their crew. In their tests they have  found that LASIK is a safer alternative to glasses and contacts for military personnel. 
In a study performed by the U.S. Department of defense, 360 service members were tested before and after LASIK eye surgery to see if the procedure helped pilots perform at a higher level. The results of the study showed that participants were better able to perform tasks at a higher level than they could before the procedure. 98% of the participants said that they would get LASIK again. 
The U.S. Military has been so pleased with the results of LASIK, they have become the largest provider of LASIK procedures in the United States. The procedure has been used to help servicemen and women improve their vision, enabling them to better perform the tasks that they are presented with. While civilians' lives may not depend on their vision, LASIK can help improve vision and make daily tasks less of a burden. Contact Louisiana Eye & Laser Center today to learn more about how you can find out if LASIK is an option for you.  
LASIK Eye Surgery at LA Eye and Laser
If you are considering LASIK eye surgery in Louisiana, Louisiana Eye & Laser Center can help you. Our eye care professionals are dedicated to providing an elite level of eye care that will help you enjoy the clear and comfortable vision that you deserve. With 14 different locations across Louisiana, we have an office that is convenient for you and your busy schedule. Contact us today to schedule your complimentary initial LASIK consultation. Give us a call or fill out the online contact form below to get started. One of our friendly eye care specialists will be more than happy to assist you.